THE ACCIDENTAL TOURIST
(director/writer: Lawrence Kasdan; screenwriters: from the novel by Anne Tyler/Frank Galati; cinematographer: John Bailey; editor: Carol Littleton; music: John Williams; cast: William Hurt (Macon Leary), Kathleen Turner (Sarah Leary), Geena Davis (Muriel Pritchett), Amy Wright (Rose Leary), Bill Pullman (Julian), Ed Begley Jr (Charles Leary), Robert Gorman (Alexander Pritchett), Bradley Mott (Mr. Loomis); Runtime: 121; MPAA Rating: PG; producers: Lawrence Kasdan/Charles Okun/Michael Grillo; Warner Home Video; 1988)

"The emotional complexities unearthed are distinctly adult."
Reviewed by Dennis Schwartz
Lawrence Kasdan("French Kiss"/"Mumford"/"Dreamcatcher") directs and co-writes with Frank Galati this under-rated romantic comedy/drama. The emotional complexities unearthed are distinctly adult. The acting is top-notch. It's based on the 1985 novel by Anne Tyler.
Macon Leary (William Hurt) is an uptight wealthy Baltimore travel book writer, whose adolescent son was shot dead in a burgher joint robbery.
In the opening scene, Macon's wife Sarah (Kathleen Turner) suddenly leaves him. Helping Macon recover from the shocking loss of his family and his non-communication with the outside world, is the kooky single mom dog trainer Muriel Pritchett (Geena Davis).
Mixing laughs and melancholy over the situation, the film becomes a sharply observed character study of the depressed loner Hurt character as he begins a live-in relationship with the exuberant but vulnerable working-class girl portrayed by Geena and her son (Robert Gorman). It's a very different one from his married relationship.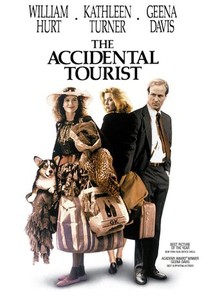 REVIEWED ON 7/14/2015 GRADE: B    https://dennisschwartzreviews.com/