A MAN CALLED OTTO
(director: Marc Forster; screenwriters: based on the novel "A Man Called Ove" by Fredrik Backman/David Magee; cinematographer: Matthias Keonigswieser; editor: Matt Chesse; music: Thomas Newman; cast: Tom Hanks (Otto Anderson), Mike Birbiglia (Dye & Merica Real Estate Agent), Mariana Treviño (Marisol), Rachel Keller (Sonya), Truman Hanks (Younger Otto), Cameron Britton (Jimmy), Manuel Garcia-Rulfo (Tommy); Runtime: 126 ; MPAA Rating: PG-13; producers: Fredrik Wikstrom/Rita Wilson/Tom Hanks/Gary Goetzman; Sony Pictures; 2022)
"Formulaic American remake of a soppy Swedish film from 2015, "A Man Called Ove," that seems rather more ridiculous when it gets the American crowd pleaser treatment."
Reviewed by Dennis Schwartz
Marc Forster ("Finding Neverland"/"All I See is You") directs this formulaic American remake of a soppy Swedish film from 2015, "A Man Called Ove," that seems rather more ridiculous when it gets the American crowd pleaser treatment. The American film changes the location, the subject's name to Otto and stars Tom Hanks as Otto Anderson , a grumpy suicidal widowed man of 60, who just retired and easily gets over-excited if things don't go his way. He is so depressed he intends to hang himself in his living room, in his condo in Philly. But his suicide is botched.

In a flashback to Otto's younger days, Tom's son Truman plays the young Otto. This enables the older Otto to remember when he was happily married to his wonderful school teacher wife (Rachel Keller). We later on learn there's a reason his more recent memories are downers (which as revealed are not very interesting reasons).

In a predictable way, Otto overcomes his suicidal urges as he reverts back to the time he was a good guy. He now cares for a neighbor's family in need. Thereby he gets on with his life again without being a misanthrope, showing us what a mench he is (in ways that are so corny I could puke).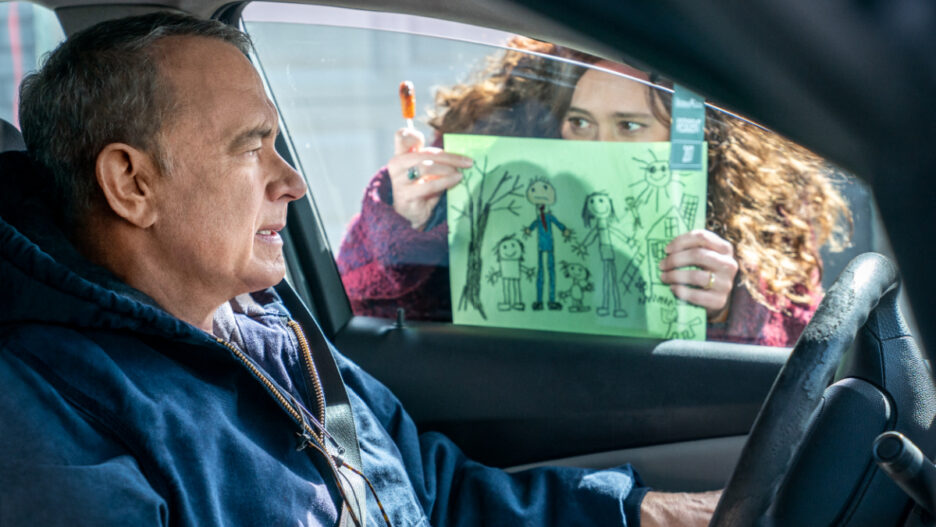 REVIEWED ON 12/31/2022 GRADE: C