A CASTLE FOR CHRISTMAS
(director/writer: Mary Lambert; screenwriters: Kim Beyer-Johnson, Neal H. Dobrofsky, Tippi Dobrofsky, Ally Carter; cinematographer: Michael Coulter; editor: Suzy Elmiger; music: Jeff Rona; cast: Cary Elwes (Myles), Brooke Shields (Sophie Brown), Lee Ross (Thomas), Suanne Braun (Mrs. D), Vanessa Grasse (Lexi), Mark Fleischmann (Frank Deluca), Andie Osho (Maisie), Tina Gray (Helen), Eilidh Loan (Rhona); Runtime: 98; MPAA Rating: NR; producer; Brad Krevoy: Netflix; 2021)
"Though it's not a good movie, it nevertheless is not that bad."
Reviewed by Dennis Schwartz

A trying formulaic holiday rom-com treat directed to be pleasing by Mary Lambert ("The In Crowd"/"The Attic") and written as lightweight escapist fare by the team of Kim Beyer-Johnson, Neal H. Dobrofsky, Tippi Dobrofsky, and Ally Carter.

The established rom-com novelist, Sophie Brown (Brooke Shields), of the popular "Emma Gale" series, has angered her fanbase by killing off her protagonist's love interest by getting her thrown down a staircase. Her artistic decision is obviously motivated by her recent bitter divorce when hubby dumped her for another woman.  Sophie goes on the "The Drew Barrymore Show"  and has an on the air meltdown over the hurtful divorce, with Drew giving her the business. She thereby decides to rethink her career path and splits to Dunbar, a wee town in Scotland, where her story-telling dad, the poor son of a groundskeeper, was raised in the town's castle.

The author's plan is to work in anonymity while delving into her family history.

She stays at the local bed-and-breakfast, where she engages a friendly knitting circle that gather there to knit and gossip. There she learns about Myles (Cary Elwes), the duke of the nearby Dun Dunbar castle where her dad was raised. She befriends the grouch and his lovable dog Hamish, and on an impulse offers the cash-strapped duke a chance to sell her his castle. The dodgy duke comes up with a plan whereby he can take her money and make sure she leaves the castle at the end of a 90-day escrow period.

His plan allows him to still live in the castle,  and she can only take full ownership if she gets by the 90-day escrow period. If that fails, the duke retains ownership and her fee.

His plan is to make her hate the place, and puts her in the worse room in the castle, gives her little heat to survive the winter and puts many other obstacles in her way so there's no way she will want to stay.

The two have at it with some testy verbal spats, but by the time the third act comes around he no longer wants her to leave as a romance seems to be in the air.

The supporting cast is decent, especially the knitting club's Andi Osho as Maisie, and her boyfriend Lee Ross as Thomas, the servant at the castle.

Though it's not a good movie, it nevertheless is not that bad.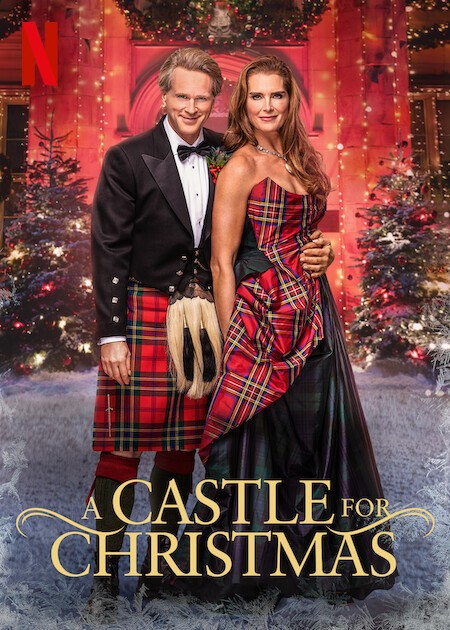 REVIEWED ON 1/1/2022  GRADE: C+